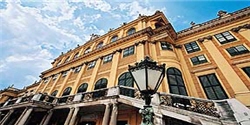 The EU/ME 2011 workshop in Vienna has a special focus on "Client-centered logistics and International Aid".
New extended deadline for Submission:
December 24th, 2010 (2 pages extended abstract)
Notification of Decision:
January 15th, 2011
Objectives
The goal of this meeting is to give researchers and practitioners the opportunity to discuss recent advances in metaheuristics.
Topics covered:
successful applications of metaheuristics,
innovative combined approaches,
theoretical results on metaheuristics,
prospectives on metaheuristics
The workshop has a special focus on the following applications:
disaster relief operations planning,
emergency preparedness,
emergency response,
mobile hospital planning,
patient transportation,
ambulance location,
nurse and doctors scheduling,
school bus routing,
traveling repairmen,
service technician routing
...
In order to allow all researchers and students interested in the subject to attend the workshop, the participation is free of charge, but registration is compulsory.
Luk N. Van Wassenhove
Henry Ford Chair of Manufacturing, Director of the Humanitarian Research Group, INSEAD, Fontainebleau, France
Supply Chain Management in the Context of Humanitarian Disasters
---
Mikael Rönnqvist
Norwegian School of Economics and Business Administration in Bergen
Efficient Home Care Scheduling and Routing
---
Verena Schmid
University of Vienna
Emergency Room Scheduling featuring Optimization of Intra-hospital Routing
---
Sophie N. Parragh
INESC Porto / IBM CAS Portugal
Demand responsive transportation: a client-oriented perspective
Sponsors:
ÖGOR, EURO, Stadt Wien, Universität Wien